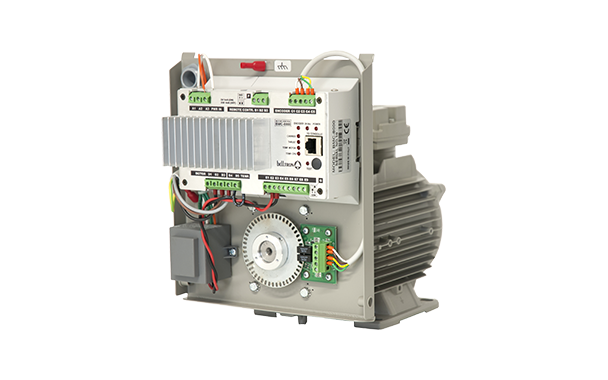 6 pole rotating motors supplied with encoder and electronic control module mod. BMC-8000 on board or installed on a panel.
MTR-8000 series are electronic control rotating motors. The control module allows to control bells for peal, volteo and bandeo. Power supply ranges from 110V to 480V both monophase and threephase. Setup is programmed with PRG-8000 consolle.
DIGITAL CONTROL
Belltron rotating motors are digitally controlled and can be installed to maintain the traditional bell chain driven systems. This system allows you to adjust the intensity of the starting and stopping of the bell. One of its advantages is the soft start/soft stop to have a smooth start/stop of the bell
ELECTRONICS
The MTR-8000 electronic controls are on board or installed in the external control panel. A safety system software prevents the bell frrom rolling on itself if its goes about 3° over the programmed elevation degree. The bells programming can be viewed on PC and/or on the consolle. The nev Belltron motor performance isn't affected by power supply, ether monophase or threephase.
PROGRAMMING
The MTR-800 rotating motors firmware can be programmed and updated via USB. Programming is carried out using the PRG-8000 consolle. This system was designed using a state of the art technology which is able to analyze any programming problem and immediately find a solution. In case of loosening or hardening of the chain, the thurst re-programmed real time by the software, in order to always have the same elevation.
MADE IN ITALY
The Belltron trade mark means a high quality product that is guaranteed as both the design and production is carried out within the factory with the aim of meeting the requirements of the ecclesiastical market. The only company in the country to manufacture and use software 100% made in Italy which meets the highest technical and quality standards in the world.