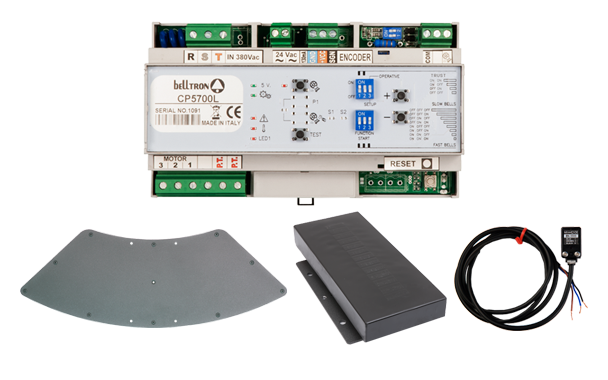 Linear motors with no mechanical moving parts. Weatherproof. Five versions are available according to the size of the bells.
The MTR-linear motor Kit is available in five versions, depending on the weight of the bell that needs to be played (up to 1,500 kg). Using this type motor the bell is free to swing as it is driven by just the force of an electromagnetic field. The kit is made up of:
Control module;
Linear motor;
Metal plate;
Encoder.
CONTROL MODULE
Thanks to the internal industrial microcontroller  the CP 5600L control module can manage the programming of all the parameters of the swinging bells (speed, elevation angle, etc..).
LINEAR MOTOR
The linear motor is placed inside an episodic resin  structure, resistant to all weather conditions. Complete with a metal plate for mounting with a  powder coated exterior finishing. Power goes from 1.1 Hp to 5.5 Hp. Available in various versions, depending on the size of the  bell.
METAL PLATE
The metal plate is fixed to the BELLS AXIX OF ROTATION. It has a powder coated finishing for outside use and is supplied in different sizes depending on the size of the motor.
ENCODER
Magnetic encoder (proximity sensor) to control the position of the swinging bell.