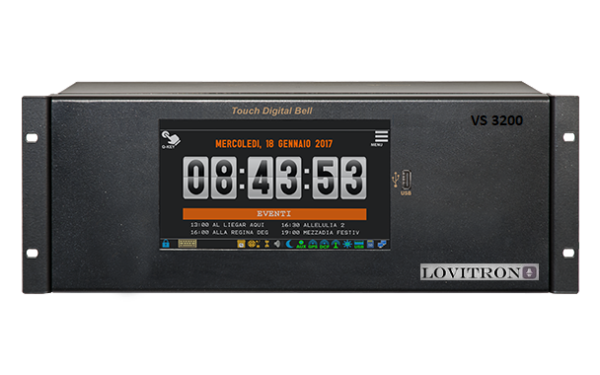 Amplified electronic digital carillon, 250 and 1,000 Watt. Can store up to 10,000 melodies. Multi-voice. Reproduction of Mp3 files. Can manage up to 120 relay outputs. Large 9" LCD colour display.
The VS 3200 amplified electronic digital carillon is the top model. It allows you to ring real cast bronze bells or digitally reproduce high audio fidelity bell sounds. Up to 10,000 melodies can be stored. A useful device to pre-arrange programming and control various associated services.
LARGE 9" COLOUR DISPLAY
The electronic digital carillon allows you to play real cast bronze bells or digitally reproduce high audio fidelity bell sounds in churches which have no bell tower. The 9" graphic colour display allows a good clear  vision of the available menus and time programming. The VS 3200 can easily be used by anyone thanks to the straightforward guided instructions available in various languages (Italian, English, French, Spanish, Polish, German , Portuguese, Russian, Romanian).
EASY TO USE
Ten instant program buttons are available to allow you to enable or inhibit programmed bell sounds, to adjust clock strikes, quick play bell sounds such as funeral tolls, solemn events, etc., check service programs (turning on lights or heating, opening of doors/gates, alarm systems, all with the simple touch of a finger.   When required, by just using a single button you can enter any type of special programming.
HIGH QUALITY SOUND
The wide range of recorded and preset sounds in the VS 3200 are capable of meeting the requirements  of all parish priests. The variety of multi-timbres available can satisfy the needs dictated by local customs. The sound of different size bells  is faithfully reproduced going from the deep low notes to the high pitch notes, in every possible combination. The various internal preset melodies and the possibility of  directly recording music played either directly from the device or using a Midi keyboard allow each sound to be repeated, copied, edited, velocity changed, be manipulated in any way and played in sequence, for any number of minutes or of times. The melody that has been played can be listened to before being saved inside the device and given a corresponding number and  title.
ADVANCED TECHNOLOGY
Use of the latest generation of processors and audio DSP  make the VS 3200 a high-performance device. Thanks to the use of an operating system and proprietary technology a high quality polyphonic sound library is available. Reproduction and time programming of Midi and Mp3 files from SD-card is available. The VS 3200 can be programmed via Internet using a PC, Tablet or Smartphone.